Classes & Training
La Plata County Humane Society hosts weekly classes to assist you with animal communication and excel with your dog. pranaDOGS manners classes are set up as drop-in classes, so you can come anytime your schedule permits…or when your dog's behavior demands it.
11:00 a.m. – Level 1 (beginners): Covers basic impulse control, communication and cues. This is a great place for dogs to have to focus on their family…with other dogs extremely close to them. Kids are always welcome!
1:00 p.m. – Level 2 (advanced): Practices basic behaviors in an advanced format. Work on staying and coming from 20′ away with other dogs present, leash manners and advanced impulse control. Level 2 provides everything needed for a good mannered dog and often the class alumni return to when they want to do a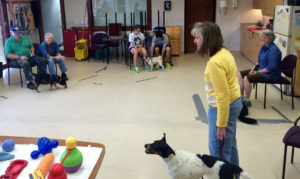 little extra training with their pup.
Classes are held every Saturday in the multi-purpose room inside LPCHS. To view upcoming classes, check out our Event Calendar.
No sign-up required for Saturday classes. First class always Free! If you wish to continue, classes are $25/per class or $120 for 6 weeks.

Workshops Schedule
We're thrilled to announce that we are teaming up for the second year to provide Dog Behavior & Training Workshops. These workshops focus on common problem behaviors, service dog training and canine good citizen testing. Each workshop offers solutions, tips and tricks, demonstrations and take home materials.
All workshops and trainings are held at La Plata County Humane Society, unless otherwise posted. Workshops are intimate with a total of 10 dogs (family members are invited to participate).
Workshops run from 9am-noon and include handouts, practice sessions and in some cases testing. Workshops that include testing, are available both with and without the test. Testing is an additional cost. 
Canine Good Citizen Workshop & Test
Dog Reactivity
Service Dog Workshop
Canine Good Citizen Workshop & Test – First Friday of each month
This morning workshop is an opportunity to review and practice – with your pup- the behaviors necessary for your dog to excel at the Canine Good Citizen Test. Workshop runs from 9am-noon; testing at 12:15, for those interested. Dogs are not required to test. Workshop only $125  Workshop & Test $ 175
Dog Reactivity – 2nd Friday of each month
So many dogs are difficult to walk due to their reactivity to other dogs. In this half-day workshop and practice session, we'll help you and your dog implement different coping strategies so you can both get out and have more enjoyable walks. Workshop only $125
Service Dog Workshop – Last Friday of each month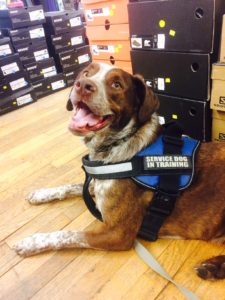 In this half-day workshop, we'll practice training your dog on different tasks, specifically deep pressure therapy, nudging (stopping compulsive behaviors), and alerting. Dogs need to have basic manners before attending this workshop. Workshop only $125
Service Dogs      Can my Dog be a Service Dog?      Service Dogs and Training Hours
Sign-up is required for all Friday Workshops. For more information and to sign-up, view our Event Calendar or visit, pranaDOGS.com.
About PranaDOGS
pranaDOGS is a non-profit, 501(c)3 organization dedicated to improving the quality of life for dogs by solving their behavior issues, training them to be good-mannered members of society and building their capacity to thrive.
pranaDOGS provides training and rehabilitation for dogs in shelter and rescue settings, for dogs who are between homes and for individuals struggling with behavior problems with their adopted dogs. Located on 20-acres near Durango, Colorado, pranaDOGS works to empower dogs with the skills they need to thrive in households and be well-mannered members of the community.
Paws Behind PranaDOGS
Executive Director, Marcy Eckhardt is a Certified Professional Dog Trainer (CPDT-KA) and has worked with dogs most of her career. After serving in the Air Force, she put herself through college as a groomer and veterinary technician. Marcy then ran a doggie daycare and grooming business then a boarding facility, and in 2011 published the book, The Ripple Effect; A novel exploring the Challenges and Triumphs of running an Animal Shelter.
In 2013 Marcy was credited with turning around a four-corners, high-euthanasia shelter in less than a year; dropping euthanasia rates by half and implementing progressive programs and solutions. Marcy is CPR Certified, an AKC Canine Good Citizen Evaluator, and has been the Trainer/Behavior Consultant for La Plata County Humane Society since 2014. She specializes in improving communication between dogs and people and helping traumatized dogs get through their issues. For more information, please visit pranaDOGS.com or email info@pranadogs.com
     Member                                                         Certified Trainer