Classes & Training
La Plata County Humane Society hosts weekly classes to assist you with animal communication and excel with your dog. pranaDOGS manners classes are set up as drop-in classes, so you can come anytime your schedule permits…or when your dogs behavior demands it.
11:00 a.m. – Level 1 (beginners): Covers basic impulse control, communication and cues. This is a great place for dogs to have to focus on their family…with other dogs extremely close to them. Kids are always welcome!
1:00 p.m. – Level 2 (advanced): Practices basic behaviors in an advanced format. Work on staying and coming from 20′ away with other dogs present, leash manners and advanced impulse control. Level 2 provides everything needed for a good mannered dog and often the class alumni return to when they want to do a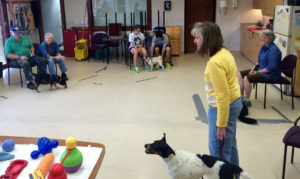 little extra training with their pup.
Classes are held every Saturday in the multi-purpose room inside LPCHS. To view upcoming classes, check out our Event Calendar.
Stop in any Saturday to check out our classes. First class always Free! If you wish to continue, classes are $25/per class or $120 for 6 weeks.

2018 Free Dog Behavior Workshops
We're thrilled to announce that we are teaming up for the second year to provide free, 90-minute Dog Behavior Workshops. These workshops focus on common problem behaviors and service dog training. Each workshop offers solutions, tips and tricks, demonstrations and take home materials. These are human-only workshops, please leave your dogs at home. Classes are held in the multi-purpose room inside LPCHS. For more information, check out our Event Calendar or visit, pranaDOGS.com.
Leash Manners
Dog Reactivity
Coming when Called
Service Dog Information
Leash Manners
Sick of getting dragged down the street or ignored by your dog anytime you snap on the leash? The Leash Manners Workshop covers three of the most common methods of getting dogs to walk politely with you. Humane Society dogs will be used for individuals to practice with and tips, tricks and take home materials will be provided.
Dog Reactivity
Want to get your dog out more but embarrassed at how he acts? Let us help. Dog's reacting to other dogs is a common problem and one that can cause a lot of frustration in your relationship, but there are solutions. In this workshop we cover the three ways you can get your dog to stop reacting to other dogs and focus more on you.
Rapid Recall (Coming when Called)
This critical cue can be the difference between on and off leash walks, where you walk and the quality of your walks. In this workshop we discuss how to achieve a happy, rapid recall through different situations and with different distractions present.
Service Dog Information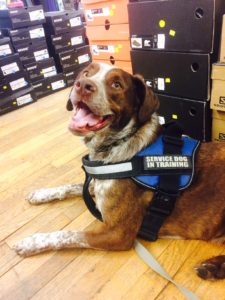 This workshop focuses on 3 main areas within this broad topic: Is your dog a candidate for this type of work, the rules, laws and implications and how to train a service dog. Interested in learning more and if your dog is a service dog candidate? Download additional resources below.
Service Dogs      Can my Dog be a Service Dog?      Service Dogs and Training Hours
About Our Trainer
Marcy Eckhardt, Certified Professional Dog Trainer (CPDT-KA) and AKC CGC Evaluator is the woman behind pranaDOGS. Having worked with dogs for more than 20 years, Marcy's expertise has been sought out by government agencies, local organizations and private citizens to assess, evaluate, train and rehabilitate dogs in our region. For more information, please visit pranaDOGS.com or email info@pranadogs.com
     Member                                                         Certified Trainer