Foster Care
Not ready to adopt? Consider becoming a foster parent. You can make an immediate and lasting impact on an animals life as a foster parent. Foster parents provide crucial loving care and housing for animals in need of a quiet space and individual attention. Our program finds temporary and long-term homes for animals that might need extra time and a chance to thrive before finding their forever homes. Animals get one-on-one attention in the comfort of  your home and can be just what they need to relax and heal. Fosters also provide hospice care to animals that have a limited time left due to age or medical issues.
What are foster parents?
Foster parents are volunteers of La Plata County Humane Society who temporarily host animals with medical or behavioral needs, mothers nursing their litters, underage animals who need special feeding and socialization, or elderly animals.
Animals may need foster care for many reasons, primarily if the animal is: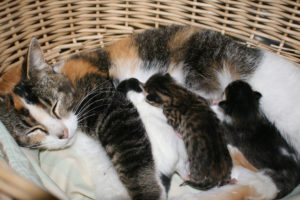 Too young
Pregnant
Injured
Recovering from illness
Senior animals
Animals waiting to be transferred
Animals transferred into La Plata County Humane Society from surrounding areas and other shelters
Don't have time to foster? Consider joining our foster field trip program!
This program gets adult dogs out of the kennel for a day, night or weekend. It helps dogs who suffer from kennel  stress and is also a great way to socialize the dogs and get them seen by the public. contact our Foster Care team at foster@lpchumanesociety.org for more information.

How to apply
Download and carefully read the Foster Care and Raising Orphaned Kittens manuals.
Download and complete the Foster Application. You may email or drop the application off to our Foster Care team at the shelter.
After your application has been submitted and reviewed, you will be contacted by our Foster Coordinator to schedule an interview and a home visit. La Plata County Humane Society and state law require a home visit for all new foster parents. During this visit, our Foster Care team will come to your home to get to know you and your family.
Congratulations on becoming foster parent! 
As animals become available for foster, you will receive communication with details about the pets available and you may choose to foster as you prefer. You will receive support from our Foster Care team, Foster Mentors and Medical Services team.
Questions?
Contact our Foster Care team at foster@lpchumanesociety.org or (970) 259-2847 x109.