Wish List
Donating any of these items is a great way to directly support the homeless animals at La Plata County Humane Society. You can also purchase needed supplies just by visiting our Amazon Wish Lists, just click and it ships directly to us.
If you have items you are willing to donate, please bring them to the Shelter (location and hours). If you have questions, please call us at  (970) 259-2847. Thank you!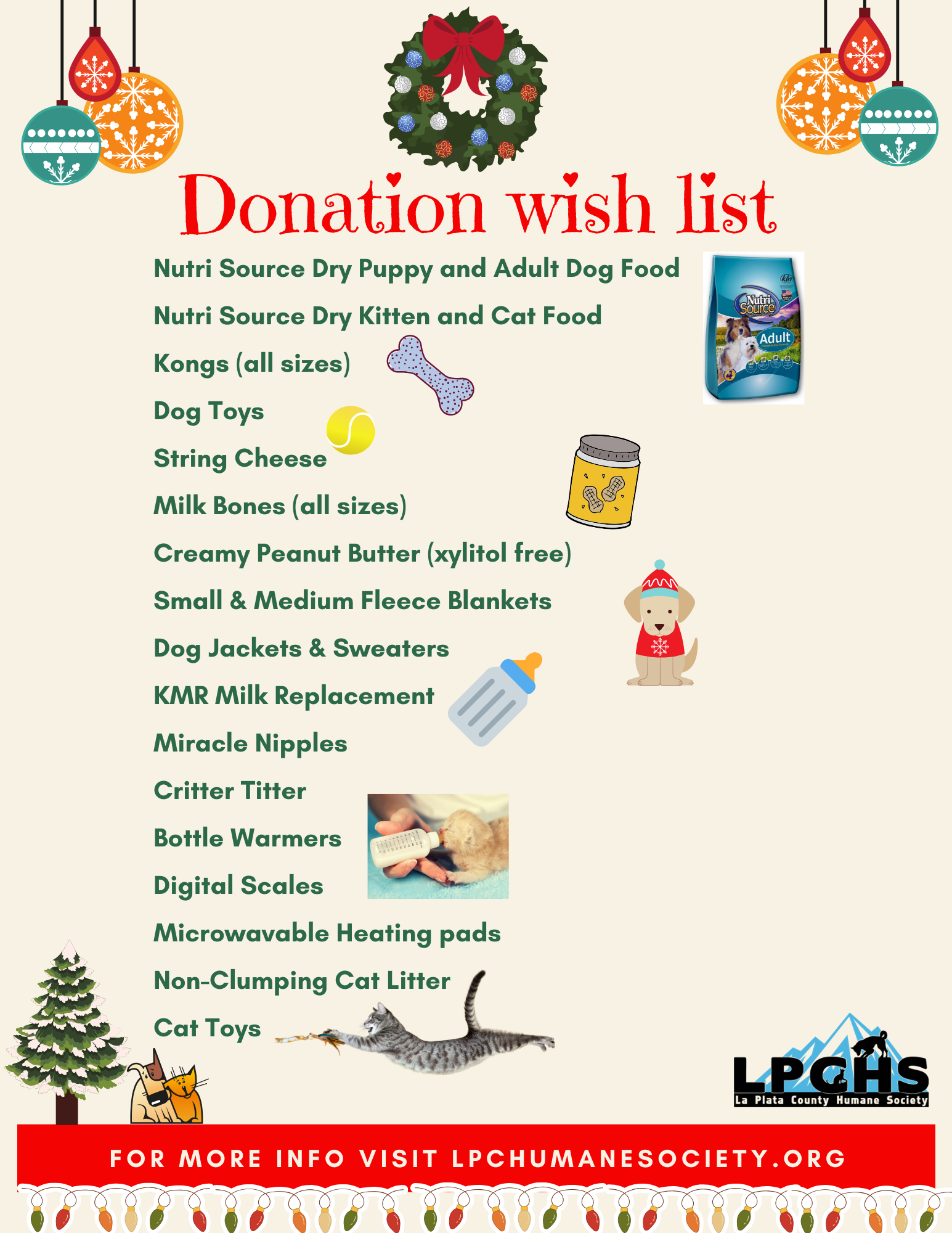 Visit your local pet supply store or our Amazon Smile holiday wish list to donate.
Thank you for helping make our pets  holiday merry & bright!
Pet Supplies
Kuranda Dog Beds, click here for to order online at special price! Just click and ship!
Stretch & Scratch Cat Scratchers, click here to order online. Just click and ship!
Cat Beds and Hammocks
Nutri Source Dry Dog Food (chicken & rice)
Nutri Source Dry Cat Food (pink bag)
Milk Bones
Creamy Peanut Butter (xylitol free)
Dog Treats
Pill Pockets
Hot Dogs
String Cheese
Nylabones of Various Sizes/Shapes
Cat Nip
Cat Toys (balls, toy mice, soft toys, toilet paper rolls)
Cat Litter (non- scented, non-clumping)
Litter Boxes
Litter Box Scoops
Small Stuffed Animals
Dog Toys Suitable for Sanitizing, Such as Kongs
Kongs (all sizes)
Tennis Balls
Stainless Steel Food Bowls (small, medium and large)
Slow Dog Feeders
6ft. Leashes and Leads
Martingale Collars (no slip collars, various sizes)
Gentle Leaders (all sizes)
Lavender Essential Oil
Rescue Remedy (drops or spray)
Dog Waste Bags
Blankets
Towels
Flat Sheets
Puppy Pads
Heating Pads
Kitten Bottles
Powder-less Exam Gloves
Tripe Antibiotic Ointment
Cat Scratchers
Gift Cards to Local Pet Supply and Grocery Stores
Gift Cards to Local Gas Stations for our Animal Protection Vehicles
Gift Cards to Basin Coop or Tractor Supply to Purchase Supplies for Farm Animals
View our Amazon wish list here 
Office Supplies
Reams of Copy Paper
Sticky Notes (Accordion)
Pens
Staplers
Staples
Paper Clips
Ink Cartridges & Toner (inquire within)
AA Batteries
Digital Thermometers
Digital Cameras
Digital Camcorders
Laptops
Computers
EZ up Tents
Foldable Tables and Chairs in Good Condition
Cleaning Supplies
Bleach
Multi-Purpose Cleaner
Windex
Disinfectant Wipes
Tall Kitchen Bags
Large Black Garbage Bags (30 gallon)
Sponges
Dish Soap
Hand Sanitizer
Ziploc Bags (sandwich and gallon)
Paper Towels
Brooms & Dust Pans
Laundry Detergent (unscented – free and clear)
View our Amazon wish list or download a printable wish list here.
Ultrasound Machine
Ultrasonic Scaler and Polisher Combo
Livestock Supplies
20 Quart Duraflex Flat Back Buckets
17 Gallon Plastic Muck Buckets
16 Gallon Heated Plastic Water Tubs
250 Watt Stock Water Troughs
3 Gallon Rubber Feed Tubs
Large Capacity Slow Feed Hay Nets,  2 x 2″ Holes or Smaller
Rope Halters with Lead Ropes
Flat Halters with Lead Ropes
Plastic Muck Rakes
10′ or 12′ Corral Panels (country line, behlen, tarter, powder blue)
Sheep/Goat or Hog Feedlot Panels
Portable Stalls
Carports
Horse or Stock Trailer, Bumper Pull or Goodneck
Fabric cat carriers
Flexi-leads
Fitted bed sheets (flat sheets are ok)
Long paper shreds
Pillows
Goose down blankets/XL bedspreads