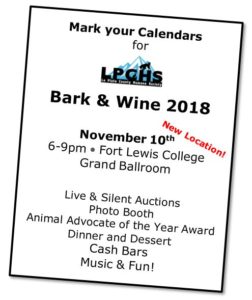 Let me introduce you to Heidi, Helena, Hazel, Hayley, Hibiscus, Honor, Herra, Harper and Harold, nine Gascon Hounds who desperately needed our help. On January 31st, after an ongoing investigation, Animal Protection Officers seized the hounds from unsanitary living conditions. For many months, the eight girls and one boy were poorly fed, living outdoors in small kennels; most were 20 pounds underweight. After arriving at LPCHS, the terrified and withdrawn hounds were examined by our medical team, placed on a proper diet, and within a week gained at least five or more pounds. After several weeks of an ongoing court case, custody was finally awarded to LPCHS. By then the hounds were all at a healthy weight, socializing with our staff, and learning how to be dogs for the first time in many years.
Due to the nature of the case, LPCHS opted to transfer them to a hound rescue several states away. Director of Animal Services, Chris Nelson, and Animal Protection Officer, Reid Brubaker, drove over 1,200 miles to ensure their safety. As of today, most of the nine hounds have been adopted to forever homes and are enjoying their new lives full of love and companionship.
Providing medical and behavioral rehabilitation is just one of the many critically important things LPCHS does for our community. After 47 years of partnership with the La Plata County community, we continue to evolve in the good things we do for our four-legged family members.
Here are other services we provide:
 House and rehome close to 3,000 dogs and cats every year
 Treat all manageable illnesses and health issues before adoption
 Provide training, behavior assessment and daily enrichment to animals in our care
 Provide free and low-cost community services, including: vaccination and spay and neuter clinics; workshops and dog training classes; and kid's camps and internship opportunities
 Act as a resource to all four-corners rescues, shelters and government agencies
 Act as the central point of contact for all pets during natural disasters and other emergencies
Although we could never recoup the cost of sheltering, vaccinating, altering, microchipping, treating illnesses, training and socializing community animals, we work very hard to be as self-sufficient as possible. Writing numerous grants, providing multiple options for giving and of course working to ensure our thrift store and our Re-Tail Boutique thrive in every way possible, are just some of the ways we do this; our Annual Bark and Wine Fundraiser is another.
More details and ticket purchasing coming soon!