Education and Outreach
La Plata County Humane Society understands the importance of education in order to build kindness, respect and compassion toward all animals. Our humane education staff and volunteers create programs that teach the importance of values, respect, kindness and most of all love. We provide tools of knowledge and develop an understanding of how you can put those tools into action.
From preschool to college, groups, individuals and beyond, we offer programs that will work for you! For more information on our programs, please contact Ken Hibbard, Education & Adoption Counselor at (970) 259-2847 x120 or by email at ken@lpchumanesociety.org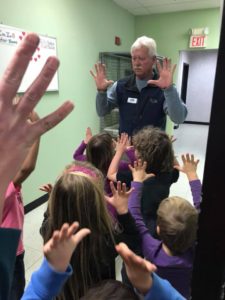 Shelter Tours
Want to learn more about our facility? This 30-45 min. presentation is a great opportunity to go behind the scenes and learn about the daily operations.
Community Presentations
Whether you are school, business, church group or fellow non-profit organization. We are always happy to come and speak about La Plata County Humane Society and animal welfare topics.
Classroom Projects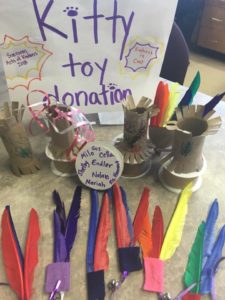 Schools and classrooms have created projects to collect donations of pet supplies, bedding and food. Others raise monetary funds for our Emergency Medical Services that will provide life-saving care for animals in need, and some groups prefer the "hands on" approach, helping with yard work in our play yard. Whether it's accepting donations, raising funds or working in the yard, we are always happy to support and discuss different projects your classroom may be interested in.
Read-to-a-Dog Program
In 2012, a reading program was introduced to several elementary schools. Research reports that reading aloud to man's best friend can have many positive effects on a child's desire and ability to read. Most children love dogs, and for those students who need additional reading practice, reading aloud to a loving, non-judgmental canine listener can help develop self-confidence and reading fluency. A volunteer brings a carefully screened dog to your classroom. Each student reads to them for 5-10 minutes before they rotate. Visits can last 1-2 hours.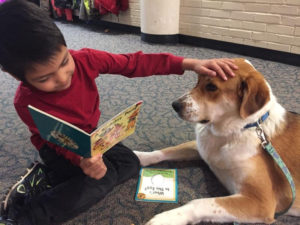 *Schools that have participated in this program include: Animas Valley, Bayfield, Florida Mesa, Ignacio, Needham, and Park. In addition, kids from the La Plata County Boys and Girls Club have participated in during the summer.
Student Internship Program (Ages 11-17)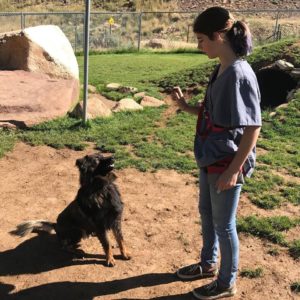 Teaching the next generation of humane educators is an important part of our mission and we openly accept student applications to join our student internship program. Whether you are looking for a semester, seasonal or year long internship, we offer the flexibility to choose the one that best fits your schedule. Our internship program offers education in a interactive environment, where the students learn the important skill of humane practices while helping exercise, groom and enrich the animals in our care.  For more information and requirements, contact Ken Hibbard at (970) 259-2847 x120 or by email at ken@lpchumanesociety.org.
Summer Kids Kamp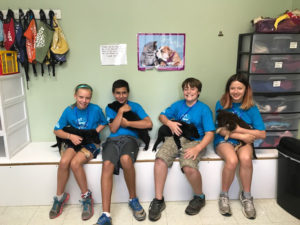 Does your child love animals and want to learn more about our work? Each summer La Plata County Humane Society offers kids ages 11-15 a fun and educational opportunity to work with animals. Kamp activities include: dog walking and socializing, cat socializing, dog training, grooming and humane education. Kampers also get to observe our Veterinarian and medical staff in the shelter's clinic and learn about the life-saving work they provide. The kamps run in the summer months and are limited to 15 participants per kamp. For more information and kamp registration, visit our Kids Kamp page.
For more information about our Education and Outreach Program, call (970) 259-2847 x120