Summer Kids Kamp
Does your child love animals? Do they want to learn more about our shelter and the important work of caring for homeless animals?
Each summer La Plata County Humane Society offers kids ages 11-15 a fun and educational opportunity to work with animals. Kampers have hands on learning opportunities with variety of pets and learn the importance of how to care for animals, be responsible pet owners and help to make our community a safer place for all animals.  
View our 2019 June Kids Kamp Moments on Flickr
Kamp activities include:
– Dog socializing
– Cat socializing
– Dog training
– Grooming
– Dog anatomy & chiropractic care
– Presentation by one of our Animal Protection Officers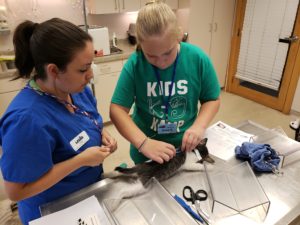 – Meet our Foster Coordinator and learn the importance of our Foster Care Program
– Meet our Veterinarian and medical staff in the shelter's clinic, where they will get to observe our team perform life-saving surgeries
– Field trip to Durango Dog Ranch
2019 Summer Kamp Dates (Cost $175/per Kamp)


3 kamps/45 kids/15 kids accepted in each kamp on a first come, first serve basis.



June 10th – 13th FULL
July 15th – 18th FULL
August 12th -15th  FULL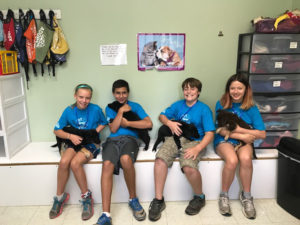 Kamp begins promptly at 10:00 a.m. and ends at 2:00 p.m. daily (please arrive at 9:30 a.m. on the first day for orientation.) We ask that you to arrange reliable & timely transportation for your child at the conclusion of each kamp day.
Be sure your kamper is prepared:
– Apply sunscreen prior to the start of kamp
– Brings packed lunch and water bottle each day
– Wears ONLY closed toed shoes
– Jacket in case of weather
– Provide any medications or instructions for care if your child has any medical conditions
– Signed copy of Liability & Photo Release Form on 1st day of kamp
To register, please sign up for you kiddos kamp online (below) or at the shelter! 15 kids will be accepted into each kamp on a first come, first serve basis. Kids will be added to the wait list when kamps are full.
June Kamp –

FULL
July Kamp – FULL
August Kamp – FULL
Download 2019 Kids Camp Application, if you plan to register at the shelter. Email to  Kamp Administrator, Emily Phillips at emily@lpchumanesociety.org.
For more information, contact Kamp Administrator Emily Phillips at emily@lpchumanesociety.org or by phone at (970) 259-2847 x112
Thank you to our friends at Wolfwood Refuge and Durango Dog Ranch!