Thursday, Aug. 1st & Friday, Aug. 2nd, 2019 at Durango Arts Center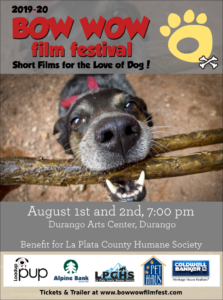 We are proud to present the 5th Annual Bow Wow Film Festival! Come join us to celebrate our beloved canine companions and the joy they bring to our lives. Join us Thursday, August 1st & Friday, August 2nd, 2019 at the Durango Arts Center. Doors open at 6:00 p.m. and the show starts at 7:00 p.m. Tickets are available online for $13 for adults and $9 for children under 12 years of age. Tickets sold at the door are $15 for adults and $10 for children. 100% of the proceeds benefit the La Plata County Humane Society!
2019-2020 Bow Wow Film Festival Trailer!